Traveling can be a fun and exciting adventure, but it can also quickly take a turn for the worst if your financials weren't properly taken care of before and during your t
rip. With identity theft, transferring money and changing currency types, there's always a chance for error. However, by using the 5 tips provided below, you are sure to have a great travel experience without any financial burdens.
Open an Acco
unt with an International Bank
When traveling, there are many different reason why you will be happy that you opened a banking account in the country you're visiting or living. A lot of times, exchanging currency is apriority in different countries, and this is something that your bank can help you with. That way, before you even travel, you can set up you account with the proper funds that you will need while away, and withdraw when you get there.
Open a Savings Account with Good Rates
Savings accounts are always good to have for emergency situations while traveling, and they are a great way to make sure you stay within your budget as well. A savings account with the best savings rates for you will ensure that you keep the value of your money and have a great time with no worries because you know that your money is there when you need it. Additionally, you can kill two birds with one stone and do some environmental conservation along with your banking as well. With the help of banks that provide green banking options, you can set up sustainable high-yield savings accounts and have a wonderful vacation while knowing that you're reducing your carbon footprint at the same time.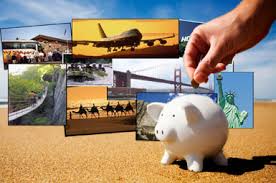 Issue International Credit Cards with Smart Chip
Getting an international credit card is an important part of travel, and should be one of your top priorities. Many credit cards that are issued here in the United States come with what are called, foreign transaction fees. These fees are usually anywhere from 1-3% of the purchase price, and are charged when the purchase is made anywhere outside of the US. This is something you will want to avoid. The other great thing about having an international credit card, is that most are equipped with a smart chip. These smart chips are just added protection to the magnetic strips on all other cards, and most of Europe and other parts of the world won't even accept credit cards anymore that do no have a smart chip.
Inform your Bank of Your Travel Destinations
This tip is important because there are certain procedures that are set at banks when a card is used somewhere outside of the country that the owner lives. Because of these procedures, the bank will freeze the account, because they believe that identity theft or fraud is taking place. They mean well, but could put you in a bind while you're no where close to home. To avoid this, just let the bank know to note your account of your upcoming travel, that way no one gets suspicious.
Have a Direct Contact at Bank for Emergencies
Having someone that you can get ahold of in a pinch is a great way to secure that you will be taken care of if you need it. Going to your bank and talking to them about having a number to call to reach someone that can directly handle your matters is a great idea. This way, that person knows your situation personally, and is best equipped to help you. When getting a car loan, for example, you have a loan officer to help you through the process. Why not have a point of contact for emergencies when traveling as well?
Properly handling your money prior to and during your travel is a great way to relieve stress and make sure your money is safe, and you are taken care of. There are many ways to secure your finances, and hopefully this will get you started.