Thinking of going on a city break? If so, why not head for Italy? If you've already visited the capital city then you can soak up a different culture, relax and unwind on Venice breaks instead. Named after the ancient Veneti people who inhabited the region in the 10th century BC, this city in northeast of Italy is a World Heritage site and rests on 118 islands. Here are some ideas for what to do if you visit Italy's water city:
Get spooked
Visitors to Venice can step back into history whilst sampling some amazing cuisine by going on a food and ghost tour. You can let a tour guide show you where crimes have occurred and spooky areas where the souls of the dead are said to still linger. Calm your nerves en route by stopping off at one of the many bacaros and osterie dotted throughout Venice. These small bars serve fabulous local wine as well as "cicchetti," small snacks that are very similar to Spanish tapas. As you enjoy some "baccalà mantecato" or "sarde in saor" your tour guide will keep you further entertained by telling you some scary ghost tales!(Image by Mambo)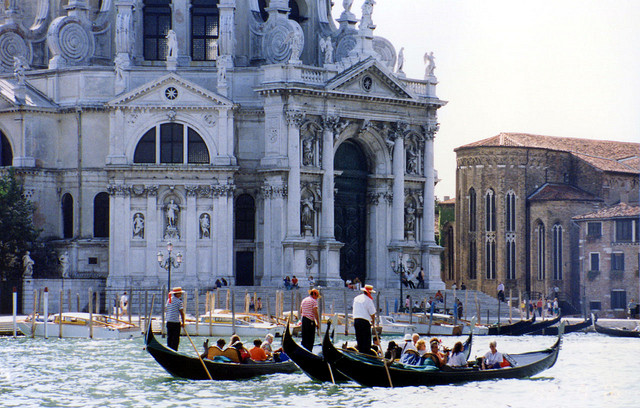 Ready, steady, cook
If you're still hungry for more after that, you can take part in one of the many cooking classes on offer. Venetian cuisine dates back over 1,000 years and is a melting pot of flavors, influences and traditions. Consisting of risotto, polenta, fish and vegetables, Venetian food is significantly different from the "terra firma", or mainland, which is more based around pasta and meat. Many of the cooking classes are family run and owned; taking part in one means that you will experience authentic Venetian cooking, as well as possibly picking up one or two secrets along the way!
Make a splash
Finally, no trip to Venice would be complete without taking a ride on her canals. It's a great city for walking around, over the bridges and looking down at the water below, but it's much more fun to take a ride on it, your hand trailing in the water as you go. Choose from a Vaporetto or waterbus, a unique but expensive water taxi or a gondola. If you wish, however, you can also explore the canals by hiring a kayak. Many locals and tourists use them; they are to Venice what the bicycle is to the Netherlands. Just like on the roads, there are directions and rules — such as one way and giving right of way to gondolas, but after a few minutes of paddling and splashing, they're as easy to master as their two-wheeled Dutch counterparts.(Image by Pensioner Percy)

Those are just three reasons why Venice should find a place on your bucket list. The rest… well, you'll just have to have the fun of discovering for yourself!
__________________________________________________________________________________________
Related post : The Beauty of Europe: Romantic Locations & Events
Feature image by wbirt1