Are you looking for a great safari in Tanzania? Imagine watching more than two million animals migrate together through endless grass plains, swamp and even crocodile infested rivers without hesitation as if they are performing a sacred ancient ritual.
This Great Migration happens every year in the stunning Serengeti National Park, where wildebeest, zebras and gazelles migrate to the southern plains, and it is one of the most beautiful sights that you will ever see.
Besides the Great Migration, Serengeti National Park is also home to one of the greatest concentration of wildlife, and is rightly celebrated as one of the best national parks in Tanzania. Even with its great reputation to live up to, Serengeti National park manages to exceed expectations of visitors every single time.
Top 5 things to do in Serengeti National Park
Game drive in the national park to watch hundreds of birds and animals.
Hot air balloon safari to get an aerial view of the beautiful Serengeti.
Witness the Great Migration.
Visit a Maasai Village to get a feel of the semi-nomadic African culture.
Visit the Oldupai Gorge where some human fossils dates back over 2 million years. .
The best season to visit Serengeti National Park
The abundance of wildlife in the national park makes for a great safari experience all year round. The climate of Serengeti National Park is mostly dry except the rainy season in March and April. So you can enjoy a good safari experience any time of the year except during the peak of the wet season.
As for the Great Migration, it takes place throughout the year in Serengeti in different parts of the national park (detailed migration info further below).
Climate:
June to October: No rainfall
November and December: Short rainfall
January and February: Little chances of rainfall, mostly dry
March to May: Heavy rainfall
Summer:
Minimum temperature: 24° C / 75° F
Maximum temperature: 32° C / 90° F
Winter:
Minimum temperature: 8° C / 46° F
Maximum temperature: 23° C / 73° F
Places to stay in Serengeti National Park
There are plenty of options of accommodation in Serengeti National Park, ranging from affordable camps to luxury hotels.
If you do not want to miss the Great Migration, you need to carefully select the area you are staying according to the season you are visiting the national park.
December – April: The Southern Plains of the Serengeti
May – Mid July: Western Corridor and Grumeti
July – November: The North Serengeti (Kogatende, Lobo and Lamai)
You can also stay in Central Serengeti, also known as the Seronera region, in between April and June or November and December to witness the Great Migration, as the herds pass through this area as well during these periods.
All four areas in Serengeti National Park are equally amazing for game drives. However, Central Serengeti tends to get more crowded in the peak season (June-October) because there are a large number of hotels and camps available in this area.
Wildlife in Serengeti National Park
The elephant, buffalo, rhino, leopard, and lion, also known as the Big Five can easily be spotted during a safari trip in the Serengeti National Park.
Other animals commonly found in Serengeti National Park include giraffe, hippo, zebra, wildebeest, cheetah, hyena, gazelle, topi, crocodile, jackal, hare, fox, mongoose, eland, and baboons.
There are over 500 species of birds in the area, and for those who also love bird watching, this is just one more reason to visit the magnificent Serengeti National Park. Though, for those of you searching out Africa's rarest bird, the Cape parrot, read more here to find out why you may not have any luck finding it in this part of Africa.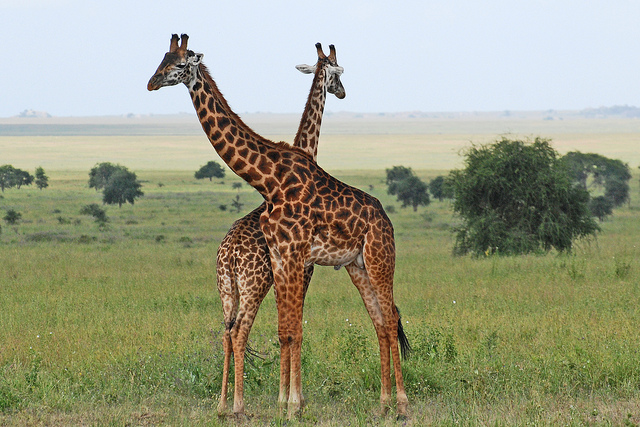 How much would a safari in Serengeti National park cost?
The costs of a safari trip vary depending on many factors such as the length of your trip, transportation used, the type of hotels you stay in, and the activities that you do.
How to minimize your travel expenses
Stay in a non-luxury camp or lodge.
Share the safari vehicle with other tourist groups.
Visit Serengeti National Park in low season (January-May).
Book your travels through Bookmundi.com, where you can easily compare prices for the many safari operators available.
Travel tips for Serengeti National Park
Visit the national park in low season to avoid the crowd: Huge number of tourists travel to Serengeti National Park in peak season (June – October) because it is one of the most popular safari destinations in the world. You may want to choose low season to visit if you want to enjoy a quieter safari experience.
Book early: The hotels and lodges at good locations can get booked months earlier. Booking early means you have the option to stay in these places. This also increases your chance to land a discount, if any available.
Plan your activities: Make up your mind about the activities that you want to do in Serengeti National Park. For example, if you want to go for a night safari, then there are only a handful of places that offer this.
Timing is crucial: If you want to see the Great Migration, then matching your travel plans according to the movement of the herds is essential.
_____________________________________________________
Related post: Beyond the Safari, things to do in East Africa
Images credit (under CCL) by order: Feans, Harvey Barrison