Holidays are a great way to spend quality time with your nearest and dearest but if you're traveling with kids there are sure to be umpteen things you need to take – and umpteen things you might forget. With this in mind, here's a list of essentials you're sure to need on your trip whether you're staying in the UK or heading somewhere luxurious with a holiday company like Tots Too.
Baby/toddler equipment
When it comes to holidaying with children, the amount of things you pack will largely depend on the age of your kids. If you have a baby, for instance, you'll need far more than travelling with a ten year old, so it's important to write lists, stay organised and prepare in advance. Firstly, it's a good idea to pack things you'll need during the journey into a separate travel bag including nappies, bottles, wipes, dummies, comfort blankets, spare clothes and toys as this will allow for easy access. Personally, I believe the best place to put your child's essentials, other than your suitcase is in something like cool clear backpacks. By doing this, you'll have easier access to any item for your kid and will make this process a little less stressful, especially when you're looking for a bottle or spare clothes. If you are looking for some new clothes to take on holiday for your baby, you can find them here. Place some spares into your suitcase but don't worry about taking all your supplies with you as you should be able to buy important items when you arrive at your chosen destination. You probably won't need to take a high chair with you, so even if you love your Siesta high chair, just leave it at home. You can deal without it whilst you're on holiday. (Image by j f grossen)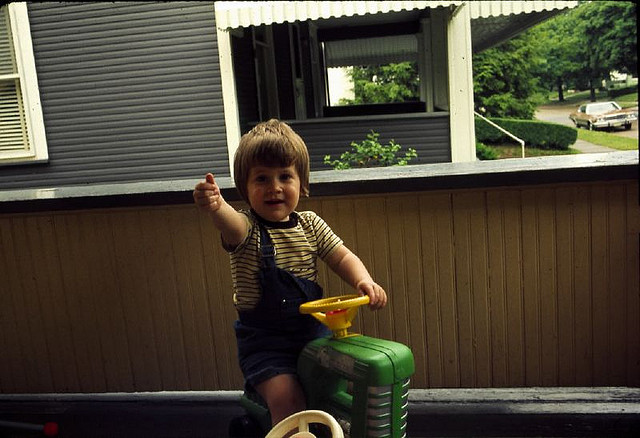 The other equipment you need will largely depend on your choice of accommodation. Many hotels and resorts provide things like cribs, blankets, baby baths and monitors, but it's worth checking just in case you need to bring a travel cot, Moses basket or something similar. Moreover, don't forget some kind of pushchair or buggy otherwise getting around could be quite tricky. If you spent ages looking at trendy pushchairs like we did then it should be able to fold up easily and easy to travel with.
Clothes
If you've never been to a certain country before it can be difficult to know what sort of clothes to pack. One of the best things you can do in this instance is to check out the world weather via sites like the Met Office and find out what's going on in your holiday destination. If the forecast is sun, sun and more sun, you can leave your trousers and coats at home, but if snow looks certain, your woollies will be more appropriate. Of course, it's also a good idea to prepare for every eventuality (just in case) and to pack both layers and numerous outfit changes – particularly if you're travelling with kids as they tend to get dirty quickly.
The clothes you pack will also depend on the activities you plan to do. Going trekking? Then you'll need sports clothes and decent walking boots. Going swimming? Then don't forget your towels, beach bag and swimming costumes. Going to a theme park such as Disney World Florida? Then comfy footwear is essential as well as perhaps an obligatory Mickey Mouse t-shirt – though there will be plenty available when you get there.
First Aid kit
Accidents can happen when you least expect it and as kids are always running, climbing and causing some kind of mischief it's worth traveling with a mini first aid kit. Plasters, antiseptic and bandages can all come in useful if things go wrong and you might also want to pop in a thermometer just in case someone gets a fever. Pain relief tablets and something to calm upset stomachs are recommended but, of course, always seek immediate medical attention if you're abroad and worried.(Image by Ryolf Per)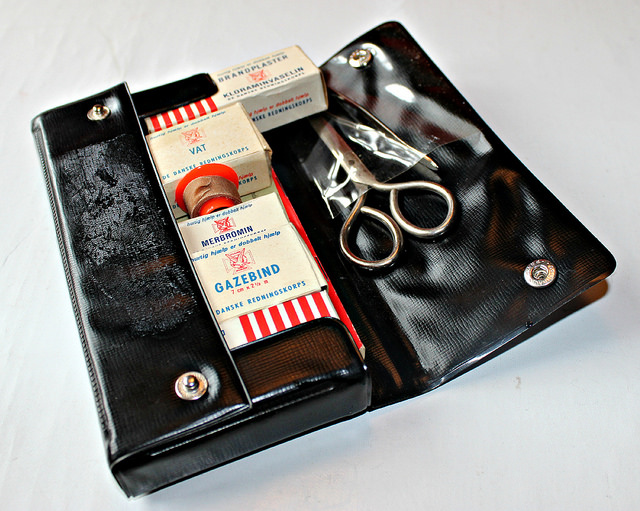 Toys/electrical equipment
These days, kids don't go far without their laptops, iPads and other gadgets. These are usually fine to take on the plane so long as they are in the correct mode and are sure to keep your youngsters entertained for hours. Babies/toddlers and young children, on the other hand, might be too young for electrical equipment but they still need entertaining so why not pack one of two of their favourite toys to keep them occupied not only on the journey but also in hotel rooms?
Your suitcase is sure to be bulging when traveling with kids, but a little forward planning will save you from taking too many unnecessary items.
_____________________________________________________
Related post : Looking to Pay Less on your Family Holiday Accommodation?
Feature image by Stephanie Jones