As one of the world's largest aquariums, S.E.A. Aquarium at Resorts World Sentosa Singapore should be a 'must go' item on your checklist of places to visit in your Singapore trip. Here are four ways you can explore this home to over 100,000 marine animals while you are in town.
GO ON A DAY VISIT OF S.E.A. AQUARIUM: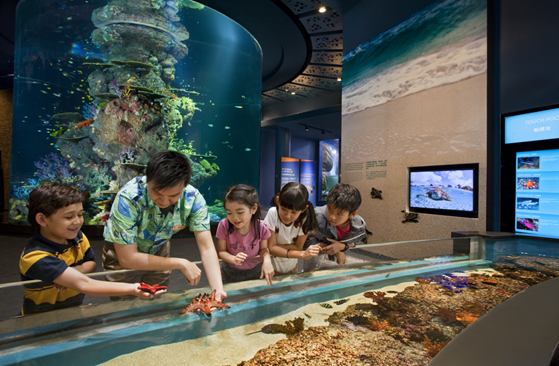 S.E.A. Aquarium once held the distinguished title of Guinness World Records' World's Largest Aquarium. Today, this aquarium has been topped by only one other, and is home to over 100,000 marine animals from 1,000 species, and growing with new births and additions every year. People are so enamoured with aquariums like these ones, they want to recreate them on a smaller scale within their homes so they can reap the benefits daily. However, there is a lot of work that goes in to making sure they are being handled correctly, so knowing what to do when feeding aquarium plants, which fish can live together, and how to feed the marine life they are keeping, is essential.
The centrepiece of the place is its Open Ocean Habitat, one of the 50 varied habitats within the aquarium. Here, you'll find another of the world's largest, an acrylic viewing panel measuring 36m wide, 8.3m tall and 70 cm thick that gives you a panoramic view of the creatures within – from rays to sharks, and the solitary goliath grouper to diverse schools of fish swimming in tandem.
In the aquarium, you'll find species from all over the world, including the rare ornate eagle ray, the colourful but venomous arrow frogs, and the threatened manta rays. The touch pool is a hands-on experience that kids especially love, as visitors actually get to feel and hold creatures such as the sea stars.
A window into this mysterious underwater world, the S.E.A. Aquarium is no doubt a great place to begin gaining a deeper understanding of marine life and how to protect our oceans. A complete trip through the aquarium takes about 3 to 4 hours, depending on your group size.
And for those of you who want to experience something different on your Singapore trip; try its Ocean Dreams programme – a sleepover right in front of the Open Ocean Gallery, and an exploration of the aquarium after it closes to its day guests.
WALK ON THE SEA BED OR TRY DIVING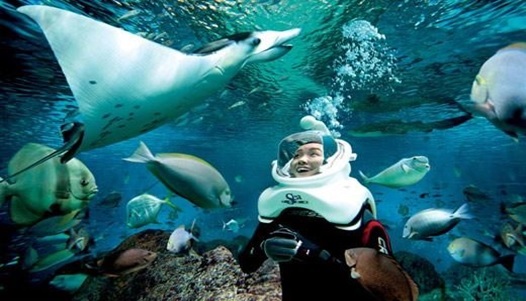 One of the interesting things you could do within S.E.A. Aquarium is the Sea Trek Adventure. You'll don a special suit to breathe underwater as you explore the sea bed of the S.E.A. Aquarium, getting close to manta rays and many species of fish. With no diving licence required, this is a great first step for beginners into the mysterious world of marine life.
For those who are on the fence about learning to dive, here's a boon for you. There's an Introductory course, Discover Scuba Diving, that takes a total beginner from zero experience to their first dive within 2.5 hours, within the protected environment of the aquarium. Highly professional trainers and all equipment provided. All you'll need is the courage to take the first step, to find out if scuba diving is soon your new passion.
LIVE THE HIGH LIFE IN THE SUBMERGED OCEAN SUITE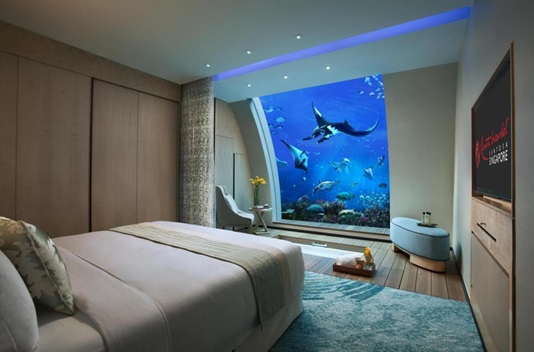 At the 11 exclusive Ocean Suites, you'll enjoy all the pampered luxury of a top hotel stay combined with the unique experience of going to sleep with the sight of marine animals swimming past. Each a two-storey unit, built with the lower level looking right into the S.E.A. Aquarium, the suite comes with a pre-installed 'sea view' tub and a private Jacuzzi, as well as a personalised butler service for an unmatched out-of- this-world stay. It will take your breath away.
Dine in the company of manta rays and other fish: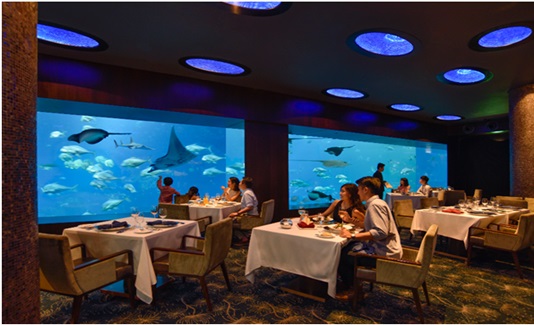 Take the overall experience of your Singapore tour to a whole new level at Ocean Restaurant, where you feast your eyes on the sight of fishes, rays and sharks swimming past even as you savour the freshest Mediterranean-Californian cuisine from the recipes of America's first lady iron chef Cat Cora. At Ocean Restaurant, the ambience of its setting plays an unforgettable part in the dining experience, as much as the food itself. If you need a setting to wow your entourage, this is it.