Where would you travel if you only had one day to live? What sights and sounds would you fly thousands of miles to experience? Here are just 10 destinations to put on your bucket list.
1: Iguazu Falls
Taller than Niagara and wider than Victoria, Iguazu Falls offer one of the most breathtaking views in the world. There are 275 drops in total, so many that they span the border of Argentina and Brazil, and the water thunders at more than 60,000 cubic feet per second.(Image by spey2008)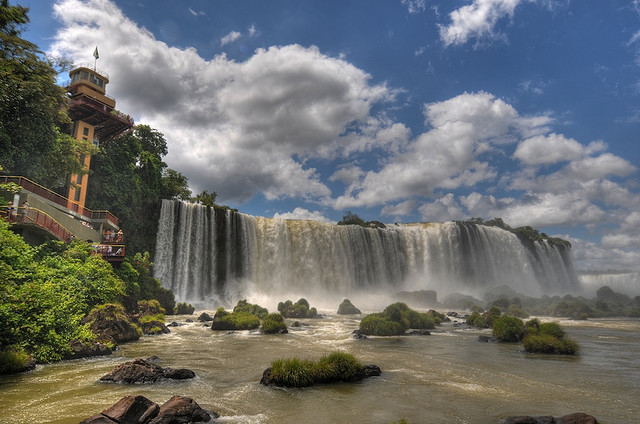 2: Pyramids of Giza
No one is really sure how the pyramids were made. At more than 400 feet tall, they should've been beyond the capabilities of the Egyptian people at that time, leading some to believe that gods or even aliens were involved in their construction.
3: The Northern Lights
Standing beneath the northern lights will make you feel like you've been transported into another world. They streak across the night sky in greens, purples and pinks, providing a one-of-a-kind experience for anyone who travels to Iceland or Alaska.
4: Mount Everest
Challenge yourself like you've never been challenged before when you take a trek up Mount Everest. It isn't easy, but the views you'll enjoy will be worth it, and the pictures you'll take will become treasured keepsakes for the rest of your life.
5: Antarctica
The continent is so remote that it doesn't even have any official residents; people work there for research purposes, but no one calls it home. When you take a cruise to Antarctica, you'll be seeing a place that very few travelers ever have or ever will.
6: Great Wall of China
While it's a myth that the Wall can be seen from space, it's still the biggest man-made structure on the entire planet, covering some 5,500 miles at a conservative estimate. It's also been around since 206 BC. Can you even imagine that much history beneath your feet?
7: Cliffs of Moher
Rising almost 400 feet above the ocean, these Irish cliffs are a cascade of color that starts with blue waves and ends with grassy greens atop the bluffs. They've been visited by everyone from Daniel Radcliffe to Lindsey Stone, and you should definitely add yourself to that list as well.
8: The Galapagos Islands
From hawks to penguins to giant tortoises, nowhere is as biologically diverse as the Galapagos Islands. To experience and admire the beauty of these islands you can choose to book a cruise tour with Galapagos Legend cruise ship or similar private yacht services in the vicinity. By doing that, you could enjoy a luxurious cruise tour through the pacific waters in style while sightseeing the islands from the cruise vessel. In addition, you might be able to see a few exotic and endemic animals such as the Waved Albatross, sea iguanas, sea lions, etc. New species are still being discovered to this day! If you're looking for a place where you can bird-watch, whale-watch, and people-watch in equal measure, these are the islands for you. You can find More information about the Islands by following that link.
(Image by Paul Fernandez)

9: Great Barrier Reef
If you want something that can be seen from space, look no further than the Great Barrier Reef. It's so massive that it crosses 900 islands, and various agencies and experts have dubbed it a World Heritage Site and one of the Seven Natural Wonders of the World.
10: Taj Mahal
You haven't truly lived until you've seen the Taj Mahal in person. As one of the most iconic symbols of love and devotion in the entire human history of romance, pictures simply can't do it justice.
Whether you're a first-time traveler or an experienced adventurer, these are just 10 beautiful places to slake your wanderlust. The world is vast and yours for the exploring, but only if you have the courage to try something new!
_____________________________________________________
Related post : Top 10 Websites For Travel Planning
Feature image by John Dalkin