Most human beings are religious and it has been so since ancient times. There are many places where different religions worship or have their history and mostly a single place bears significance for one religion only. However, Jerusalem, which is the most popular religious city in the planet, bears significance for three religions which are Christianity, Islam, and Judaism and a holiday in Jerusalem would grant one the opportunity to see these some of top sacred places in this holy land of the Middle East. However, due to Jerusalem's religious history, there are multiple religious and holy sites to be explored. If unfortunately, you're unable to make your way to some of the different sites in Jerusalem yourself, you could always consider sending an online prayer request to be placed at one of the holy sites on your behalf. If you are able to visit these yourself, then here are some of the holy sites and holy land tours you might want to visit.
Church of the holy sepulcher.
This is the most sacred and significant place for orthodox and catholic believers as it's the place where events that are the core of Christianity took place i.e. crucifixion, burial and resurrection of Jesus. It came to be in 335AD and is laid upon an old Venus roman temple foundation. This sacred site has a chapel (edicule) with two rooms at its rotunda where the sepulcher is hosted. There are different prayer times for the various denominations.
The Western Wall
This is among the most sacred places for Judaism believers and it's also called the Wailing Wall. This wall is a remainder of the second temple of Jerusalem that was destroyed by the Romans in 70CE but the Jews believe that it still has holy presence despite the demolition. Jews from all over the world come to place prayer notes in its cracks and crevices and as they advance towards the wall to pray, their reverence is breathtaking. Should you want to see a site which has been there since king Herods time, this is a good place to start (image by O M).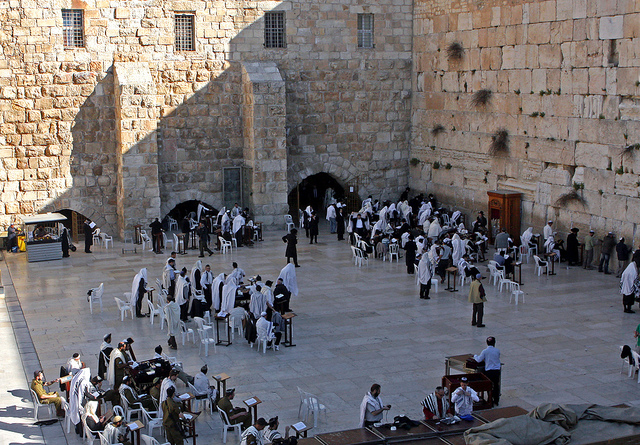 Via Dolorosa
This is the famous road that Jesus walked on his way to be crucified and globally, it's the most sacred way for Christians as their savior walked it on his way to pay for their sins. Also known as the way of sorrows, it has 14 stops with the praetorium where Jesus picked the cross and the church of the holy sepulcher being the most famous. It's usually used by Christians for most processions.
Mount of Olives
This sacred place was aptly named as it has lots of olive trees growing there. Its 2683 feet high and is located on the eastern side of Jerusalem. This place is significant for Christians and Muslims as it has been a cemetery for more than 3000 years and hosts the garden of Gethsemane, the church of Maria Magdalene as well as the tombs for Mary and Zechariah (image by pensivelaw1).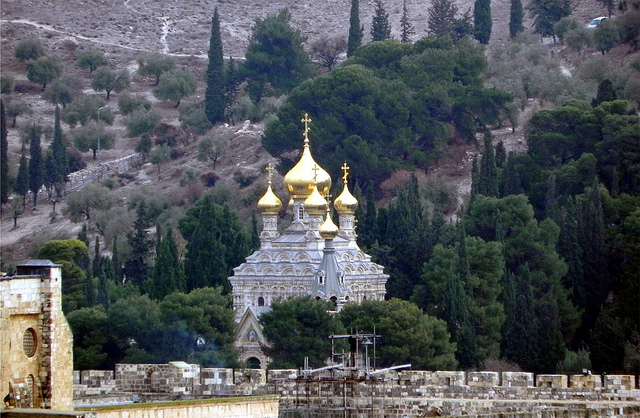 Temple Mount/Dome of the Rock
This beautiful place came to be thanks to the first and second temples of the Jews and its center is currently as dome of rock which is the 3rd most important place for Muslims. It's also the holiest place for Judaism believers as the foundation stone is covered by it. This significance has made it a contentious place and security is always tight here.
That said, your holiday will not be complete without considering adequate accommodation. Jerusalem is saturated with a variety of accommodation options for every budget and hotels in Jerusalem city can be found around any of those holy sites. In addition to booking all your tours in advance, which we strongly recommend, make sure you book your hotel. If you are looking to cut down on accommodation costs, you could look at various backpacking hostel in Jerusalem as well!
No matter what you do, you must remember that advance booking will not only provide you with better rates, but it will also prevent last-minute hassle upon arrival. Of course, if you would rather stay in an apartment, then finding a Jerusalem apartment for rent ahead of your visit is also advisable. Of course, once your accommodation and all itinerary related issues are sorted out, all you would need to do is board that flight and relax! And don't forget to enjoy your trip!
____________________________________________
Related post: The Honeymoon Guide to The Middle East
Feature image by Autumn Cha