The build-up to Christmas and the New Year's celebrations are always exciting, but the month that follows is often a bit of a let-down, especially once you've seen your bank balance.
However, there are easy and cheap ways to assuage the January blues, not least of all taking advantage of all the last minute city breaks. You can get loans in Minutes if you need a little top up to be able to do this, but it's well worth it in exchange for ditching the dread and starting the new year as you mean to go on.
around at the moment and grabbing yourself a value-for-mAney holiday to start the year. Here are three of the best winter city breaks for 2014.
Barcelona
The capital of Catalonia and the second largest city in Spain, Barcelona is a beautiful destination at any time of the year. Centred around the Old City, or Ciutat Vella, it is a pedestrian's paradise, with a reliable Metro subway system for more extensive explorations. Home to nearly two million residents, Barcelona is fair even in the winter months, with January and February seeing sunny skies, little rain and temperatures averaging 10°C. As well as the world famous beaches, the city is also known for its markets, museums, dining and of course, Gaudi's spectacular architecture.
New York
The Big Apple is a hub for food, fashion, art and culture, as well as research, finance and trade. Visitors to New York in January can expect cool temperatures, but a wealth of things to see as the city boasts one of the most famous skylines in the world, dominated by the grandeur of the Empire State Building. Sprawling yet relatively easy to navigate on the subway, which runs 24/7, it includes the borough of Manhattan which is home to the prestigious shops of Fifth Avenue as well as some of the finest museums and art galleries in the country. Be sure to take a trip on the Staten Island Ferry which runs from Battery Park to Staten Island, offering spectacular views of New York Harbor and the Statue of Liberty en route (image by joyork).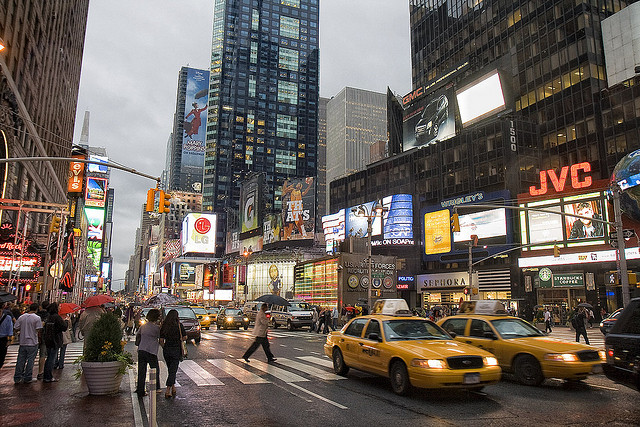 Dubai
On the southeast coast of the Persian Gulf, Dubai has the largest population of the United Arab Emirates. A cosmopolitan hub of business and culture, the city is renowned for its skyscrapers, man-made islands, luxurious hotels and some of the largest shopping malls in the world. In fact, January and February is the right time to shop Dubai, with the Shopping Festival in full swing and significant discounts on fine jewelry, gold and clothes. There are also cultural events such as Global Village, known for world cuisine and street performances. What's more, winter temperatures are much more pleasant than the soaring, 40°C-heat of the summer.
____________________________________________________________
Related post: The American Dream: USA's Best Road Trips
Feature image by?? ?, used under Creative Comms license