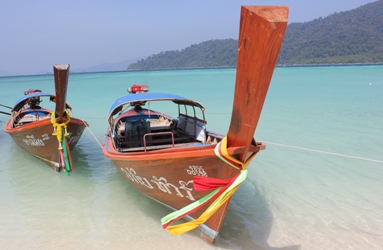 Koh Lipe is a beautiful little island within the southern most archipelago of Thailand. There are no cars, lots of beautiful beaches and some amazing places to eat and stay. During our trip in January 2013 we stayed at a place called Jacks Jungle, it offered cheap yet luxury accommodation and the best food we had eaten in a long time!
How to get to Koh Lipe:
The only way of getting to Koh Lipe is by boat, but there are many different options of harbours to leave from on the main land and surrounding islands. We flew from Singapore to Langkawi, took a short 15min taxi ride to the harbour and caught a speed boat after having a quick bit to eat. The boat to Ko Lipe Island took about 1hr and was a pretty comfy ride. Some of our party are normally bad at sea but this trip was a breeze! You have to transfer to a small long boat to get to land but its only a 2minute journey.
Once there, you have no choice but to relax and slip into island life. Sunset beach on the west coast with the amusingly named Porn Resort is great for ending the day with that perfect sunset and a danish and beer (odd combo I know!) at Flower Power Bakery. During the day head to the larger beach on east coast where the popular hotels including the Adaman Resort and Coco Bungalows are located. There is a stronger breeze on the east coast which makes playing in the sea or laying in the sun a it more bare able but slightly red if your not careful. The drinks are cheap, the massages were unbelievable and the food, especially the Pad Thai, are to die for!
There is low key Koh Lipe night life, so don't expect the Phuket nightlife but the live music, cheap beers and even a Greek kebab for the walk home definitely makes a good night out in my books. If you want a livelier nightlife you may want to schedule your visit to catch a full moon party where I hear the partying picks up a notch on the main beach to the south of the island. A must visit bar on Koh Lipe Island is the Long Tail Bar half way up the main strip, live music every night that turns into the whole bar getting involved and 99% of the cocktails are lovely, just stay away from the blue ones..!
Koh Lipe Island was a magical find and we would certainly recommend it to anyone who is looking for that slice of idyllic Thailand before commercialisation completely floods the Thai Islands! Our advice…come whilst its hot and unique!