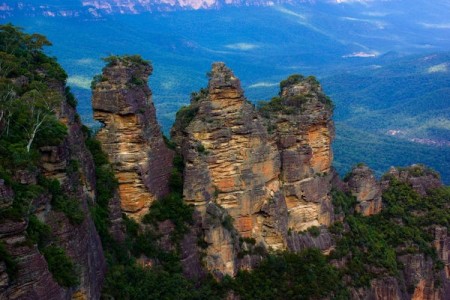 If an overseas trip is not on the cards, due to budget or time constraints, New South Wales' Blue Mountains is an exceptionally beautiful place for a honeymoon. It's easy to find great Blue Mountains accommodation options, so prepare to experience spectacular bush walks and mouth-watering food and wine. The following is a guide of the best the Blue Mountains has to offer in terms of romance.
Spectacular Sight-Seeing With Romantic Views
The Blue Mountains has some of the most stunning natural scenery in New South Wales, being one of only four UNESCO Heritage Areas in the entire state. Although it sits just 50kms from Sydney, it could be a completely different country. The natural beauty of the area, with its abundance of eucalyptus trees, beautiful rainforests and stunning cascades, make it the perfect setting for a honeymoon.
Two of the most spectacular sights include The Three Sisters at Echo Point in Katoomba and Govetts Leap in Blackheath. The Three Sisters is a surreal rock formation that looks over Jamison Valley. It was formed by land erosion, but also represents a famous Aboriginal legend. According to the legend, three sisters, Wimlah, Gunnedoo and Meehni, from the Jamison Valley Katoomba tribe fell in love with three men from a neighboring tribe, which went against their tribal law. A battle took place, in which the men tried to capture the sisters, but for their safety an elder turned the sisters into stone. Before he could transform them back, the elder died, and the sisters remain in their stone-state to this day. To create a memorable honeymoon moment, take a bottle of champagne and catch a sunset here.
Govetts Leap in Blackheath has astounding panoramic views of the mountains, complemented by a dazzling 180-metre waterfall. One of the most famous lookouts in Australia, it's particularly stunning in the early morning sunlight. Pack a picnic breakfast and sit back and relax together against this beautiful backdrop.
Breath-Taking Bushwalking
Escape from reality and lose yourselves in some of the most beautiful bushland in Australia. With hiking options for all fitness levels, the Blue Mountains are a wonderful place to get close to nature (and to each other!). One of the prettiest areas for bushwalking is The National Pass Trail, surrounding Wentworth Falls. The National Pass Trail was built in the early 1900s and has six kilometers of wilderness and waterfalls. Pack the camera for this one!
The Leura Cascades trail offers another romantic bushwalk setting. With a range of circuits available, from 20-minute tracks to seven-hour treks, th
ere is an option to suit everyone. Pack a picnic lunch and enjoy the stunning scenery of the falls.
Approximately 10.5km in length, the Springwood Sassafras Gully loop walk is another of the Blue Mountain's best. It has stunning rock formations, picturesque waterfalls and beautiful bushlands.
Relaxing Day Spas & Bathhouses
After a morning of bushwalking, luxury sits on your back doorstep with the Blue Mountains' range of day spas and bathhouses, all offering various couple's treatments. Maybe these treatments might excite the human pheromones in you and might even be the key to mood-lifting for your intense honeymoon experience. You might also enjoy bringing some of those sex toys or mood-enhancing creams to improve your time together. For example, erotic body paint is something new, and might help you keep the romance alive! Enjoying spa time together is also a great bonding activity. Some of the best in the business include Spa Sublime, Yindi Day Spa, Hamilton Spa, and Blue Mountains Sparadise. Blue Mountains Sparadise is particularly unique, being a Japanese-style bathhouse set in a beautiful Japanese garden. Make your selection from an array of treatments on offer, including herbal steam baths, aromatherapy facials, and therapeutic massage packages. If you're wanting to find out more about the various wellness packages that could be on offer to you, read more about the various products available by visiting AromaTech and similar companies.
A Range of Romantic Retreats
The Blue Mountains is home to many romantic honeymoon retreats, from mountain cottages based in Blackheath and Mount Victoria, to bed-and-breakfast options with water views of Wentworth Falls. If you're more comfortable staying closer to amenities and dining options, Katoomba and Leura also boast a range of accommodation options, from luxury, five-star hotels to self-contained apartments. It's the perfect place to relax in bed, either with breakfast or with a Free Lesbian Erotic Story, whichever takes your fancy!
As far as food and wine options go, three of the best restaurants for fine dining in romantic settings include Silk's Brasserie, Ashcroft's Restaurant and the historic Carrington Hotel. Whatever your taste, style, needs and desires, the Blue Mountains has enough choices to create a perfect honeymoon experience.
About the Author: Alison Cheech is a freelance wedding planner based in Sydney. She rates the Blue Mountains as a top destination for both weddings and honeymoons.
Photo credit: Corey Leopold / Foter / CC BY