Jordan is known as the "lonely planet" full of mystery and wonder. Why is Jordan the "lonely planet"? Most of us have heard of the Dead Sea but very few have an idea of why it's called so. Questions like "What is the magic and mystery behind Jordan?", "What brings people back there again and again?", "What will I discover in Jordan?" and others cannot be fully answered until you are on tour in Jordan and experience it yourself.
The huge numbers of Jordan tourists grows annually as the experience exceeds the high expectations of its guest. Everyone nowadays wants to hear and learn more about mystical Jordan. The top four must see regions when on tour in Jordan include the Magical Nabataean City of Petra, the Wadi Rum Desert, the Dead Sea, and Aqaba.
1. The Magical Rose City of Petra
This is an archaeological treasure of Jordan. If you mention Jordan to most what runs into our minds first is Petra. This Rose City of Petra lies in a hidden, narrow, winding, and deep valley. This makes it one of the Seven Wonders of the World. It is referred to as a Rose City due to its rose red building where pirates used to hide their treasures. This building also served as a royal tomb, as well as the Holy Grail's resting place. Petra features colorful sandstones, 500 tombs, strange rocks and carved monuments. It provides rocky and jagged scenery in which you can't distinguish man-made structures from what nature has purely built. Have you ever seen a city built into a mountain?(Image by Ike Gomez)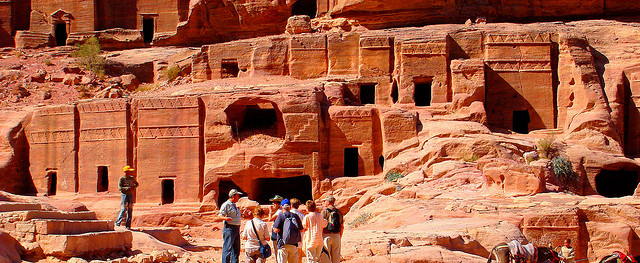 It all begins and ends with the ancient Nabataean Petra City, where all history resides. The city carries all the pride of Jordan as a "lonely planet" by being a legendary and mysterious lost city. It's a city with vast stacks of sandstone looms in the arid valley of Wadi Musa, parched landscape.
2. Wadi Rum Desert
The Wadi Rum Desert is located in the south of Jordan. It's a vast landscape with silent ancient riverbeds, amazing rock structures called jebels, and colorful sandy desert stretches. All the strange features in Wadi Rum are as a result of geological formations, erosion, and evolution. Visitors to this region have the opportunity to interact with the culture of the semi-nomadic Bedouin community. They rear sheep and goat as it was practiced in the ancient years in this desert. There are also restaurants and transport services within the desert.
3. The Dead Sea
The Dead Sea forms the border between Jordan and Israel. It's known as the lowest point on the earth's surface. Its waters are highly salty – about 6 times salty than the normal ocean waters. This provides fascinating natural phenomena. The waters have high buoyancy such that one can't sink nor swim while inside the sea. People who have been into the water testify to have been somewhere near to mars. The sea doesn't support any marine life in or around it, hence the name Dead Sea.
4. Aqaba
Aqaba is situated on the Gulf of Aqaba and on the tip of the Red Sea. The region features beach resorts with sandy beaches, clear waters, colorful coral reefs, and amazing marine life. Aqaba attracts tourists who love water sports like swimming, fishing, parasailing, waterskiing, and jet skiing. Aqaba also boasts of a rich history dating back to 4000 BC. The remains of the medieval walled city of Ayla, world's oldest church, and a Mamluk fort can also be found as part of the rich history of Aqaba.(Image by jpuigpelat)

In conclusion, those who are privileged to on tour of Jordan are granted with some bragging rights because it's one of the most spectacular and lesser known destinations in the world. Jordan is actually not the Middle East that most hear about in the news. It's a safe haven, full of tourists dreaming of returning for more.
_____________________________________________________
Related post : Top Ten Places in the Middle East
Feature image by  Vincenzo Mazza