If you are interested in activities and excursions which are unusual rather than the normal boring sit-on-the-beach holiday, then this article will be of interest to you. Whether you want to visit the South Pole, fly in a MiG fighter jet or enjoy an Africa safari, there is surely something here for everyone…but how're you going to travel to these exotic places and activities? Most would probably take a public plane, but why not invest in Private Jet Charter Flights to travel in both style and luxury, with plenty of space to call your own? This is a great way to relax before you prepare for some adventurous excursions listed below:
South Pole
Ever since explorers set out on foot to get to the South Pole, searching for the farthest reaches of the Earth has captivated the imaginations of many people. Numerous expeditions across the ice and frozen ocean to the South Pole have been unsuccessful over the years. Perhaps none more famously than the failed expedition led by Robert Scott in 1910. Fully detailed in "The Worst Journey in the World", the book makes for a good read in order to prepare yourself before setting out with travel company Abercrombie & Kent on their twice-annually South Pole expedition.
You will need to pull yourself and your sled loaded with supplies, for up to eight hours a day for two weeks during this memorable experience. Fit in some skiing, camping on the snow and learn to deal with temperatures that can dip thirty below. Only the fittest adventurers who are up for the ultimate challenge should apply… no turning back half-way there.
Strap on some wings
If you've always fancied yourself a bit of Top Gun action, but didn't want to go through the U.S. Navy's Aviator Training School to do it, then there are adventure packages available to give you the "need for speed". Fly up above the clouds, pull cheek crushing sharp turns and loops where your stomach will turn upside down.
If you would enjoy riding in a MiG-29 fighter jet then this is the time. Or the even more manoeuvrable Sukhoi Su-27, pulling 5 G's and feeling the rush, then what are you waiting for? This is entirely possible by contacting one of the following company's migflug.com, flymigsokol.com and skyandspacetravel.com.
Alternatively, if you prefer some dog-fighting, then Air Combat USA over at Fullerton in sunny California can offer you in-flight combat using one of their flight simulators.
Exclusive island living
If you prefer to be pampered and have an island all to yourself, then perhaps you will enjoy renting the 74-acre Necker Island, the millionaire paradise owned by Richard Branson.
Enjoy the solitude on the sandy beaches and laze about in the Balinese-style Great House. Invite your friends too if you want; there are six other Bali Houses scattered around the island to accommodate up to 30 guests.
There are many butlers to take care of your needs and several chefs to prepare sumptuous meals. Lie out on a hammock near the sea, go snorkelling or try scuba diving to explore the sea-life in the clear waters.
For something a little more affordable, you could always opt for a similar experience in Hawaii. You can do all of the same activities for a fraction of the price! Plus, going on a maui sunset cruise with your wife is the perfect way to spend a vacation.
The safari of safaris
Whether you've already been on a plain ole' safari or not, you haven't really been on a safari until you've done Micato. This is the ultra-luxury version of an African safari.
The best and most thrilling is the Private Jet Safari. Travelling on either a Gulfstream II private jet or a King Air 200, you get the best of the best of African safaris during your trip (image by Corsey21).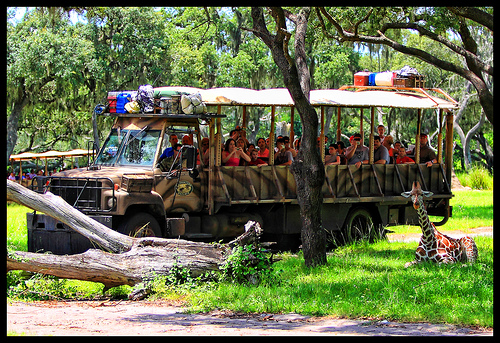 Camping in Botswana in the Lakahari Desert is on many wish-lists. See native gorillas 'walking the walk' in Rwanda. Take an early morning journey in Ethiopia to see the impressive rock-cut churches that form part of Lalibela.
Luxury seekers who opt for the two week tour also get to see the Skeleton Coast in Namibia and also move over to the Serengeti to see the seasonal Great Migration of the wildlife. The standard VIP Africa safari trip last one and a half weeks and includes high qualify lodges and hotels. http://www.nationalgeographicexpeditions.com/expeditions/southern-africa/detail
Motorcycle tour across Cambodia
Riding a motorcycle is a thrill. Yes, in the US it may lead to needing a Houston motorcycle accident lawyer from time to time, but as a whole people adore the speed and freedom it offers. For something very different, active motorcycle riders may enjoy an organised tour of Cambodia.
Ride around the Cambodian capital, Phnom Penh, on the supplied Honda XR250s, see the tourist "capital" of Siem Reap which remains ever popular because of the daily pilgrimage to the Angkor Wat temple. And later enjoy being near the stunning clear blue – white waters of the Gulf of Thailand. Lovely French colonial bungalows are available to make your overnight stays more pleasant.
This trip includes plenty of off-road riding over rough terrain. There are 200 kilometres to cover over the period of about a week. Expect to be out of contact with the outside world for days at a time.
Related post: Top Budget Countries in South East Asia
For more interesting alternative holiday destinations and adventures, visit IceLolly.com.
Feature image by @Doug88888